There's good reason why Irvine's villages, parks, offices and shopping and entertainment centers all look so beautiful.
---
The beauty of villages
Each of Irvine's villages has distinct features that make them uniquely livable and beautiful. Here are a few.
1. Shady Canyon
Landscape artistry
In a city renowned for its landscapes, Shady Canyon stands out as a special achievement. Carefully located custom homes are surrounded by a palette of California native plants that blend with thousands of acres of preserved coastal open space. When you visit, you see the light move across the hillside with purples and blues, like a painting.
"Shady Canyon adds a peacefulness to our life. Its rolling hills and open space transport us to the times we have traveled the beautiful country of Italy." – Wendy Garcia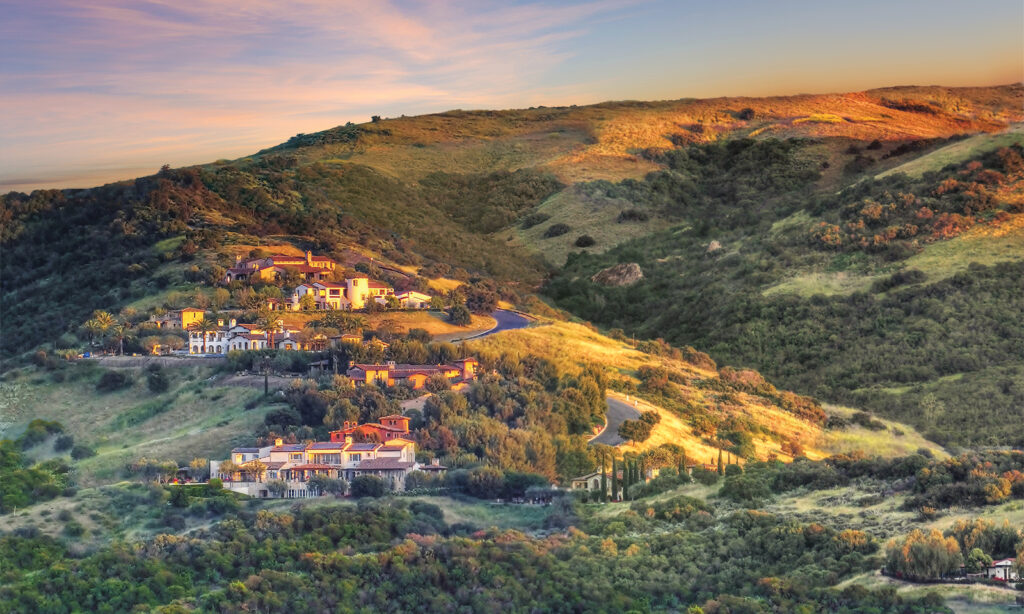 ---
2. Woodbridge
Walkability
Every home in Woodbridge is within a 10-minute walk to a park, pool or the two central lakes that connect them all. A network of waterfront paths illustrate the Master Plan's rare vision for walkable communities. Unlike most lake-centric villages that keep access private, Irvine's plan designed the lakes (and the "wood bridge" that spans them) to connect residents to the lakes' natural beauty – and to each other.
---
3. Woodbury
Sense of place
Irvine villages are defined by unique entry monuments that create a sense of place. Woodbury's brick monuments and arched-entry portals, designed in the Italian Romanesque style, distinguish it from the Spanish influence of neighboring villages. The monuments frame walking paths lined with eucalyptus, cypress and crape myrtle trees. Ground plantings complete the experience with an idyllic, natural look.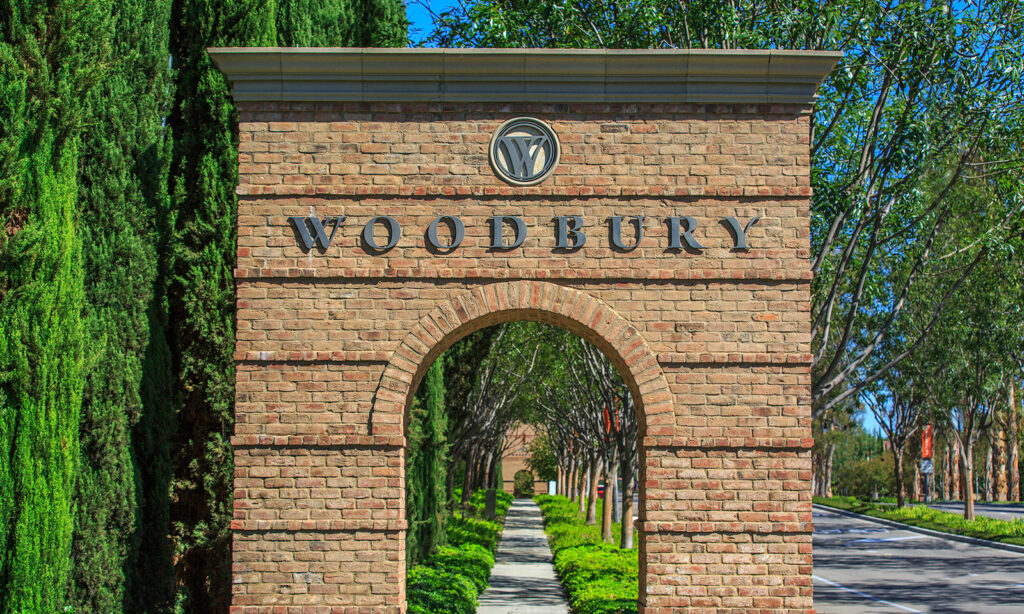 ---
4. Orchard Hills
Serene settings
Irvine's agricultural heritage is beautifully integrated into the village of Orchard Hills. More than 500 acres of avocado orchards sweep down the rolling terrain to create a serene setting and connect residents to the land's rich history. The village's final neighborhood, opening in 2025, is perched at Irvine's highest elevation.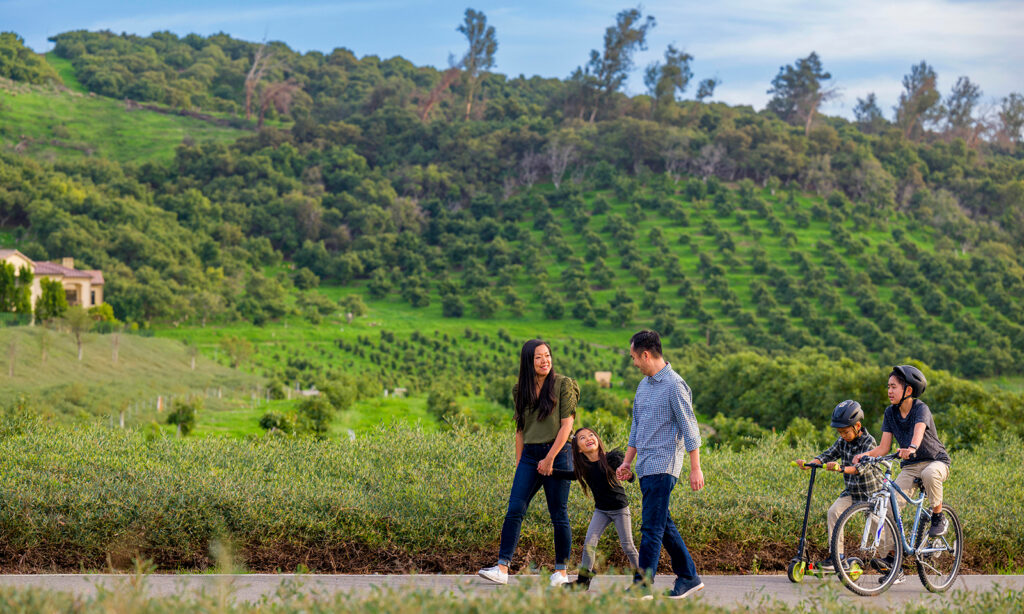 ---
The Beauty of Spectrum
Vibrancy defines the beauty of Irvine Spectrum District, where you can live, work and play within this perfectly planned city center.
5. Spectrum Towers
A visionary skyline
Irvine's iconic office towers at 200 and 400 Spectrum Center Drive define the skyline of Orange County. The nearly all-glass buildings are strategically positioned to capture the best light throughout the day, reflecting the sky, mountains, sunrises and sunsets. Inside, floor-to-ceiling windows provide expansive views for visionary companies.
---
6. Promenade at Irvine Spectrum
Resort-quality living
With a grand amenity space featuring four saltwater pools set among 5 acres of greenery, Promenade is one of Spectrum's luxury apartment communities steps from shops, entertainment and jobs. It evokes the feel of a Mediterranean village with the convenience of a five-star resort. The community takes its name from an 18th-century definition of "promenade," meaning a walkway by the water.
"Relaxing at the pool always puts us in the best mood. Every day truly feels like we are living at a five-star resort." – Evan and Brittany Dorian
---
7. Irvine Spectrum Center
Open-air shopping
A quintessential scene at Spectrum Center is the large reflecting pool in front of the Apple store – designed as part of a major reinvestment in 2018. Framed by ancient olive trees, it's an oasis of calm amid the bustle of the center's 175 stores, 57 eateries and entertainment that includes the nation's top-ranked Regal movie theater and top-ranked Improv comedy club.
"Spectrum feels serene with the fountains and the trees. The open-air environment allows us to feel connected with nature even when we shop!" – Crystal Chao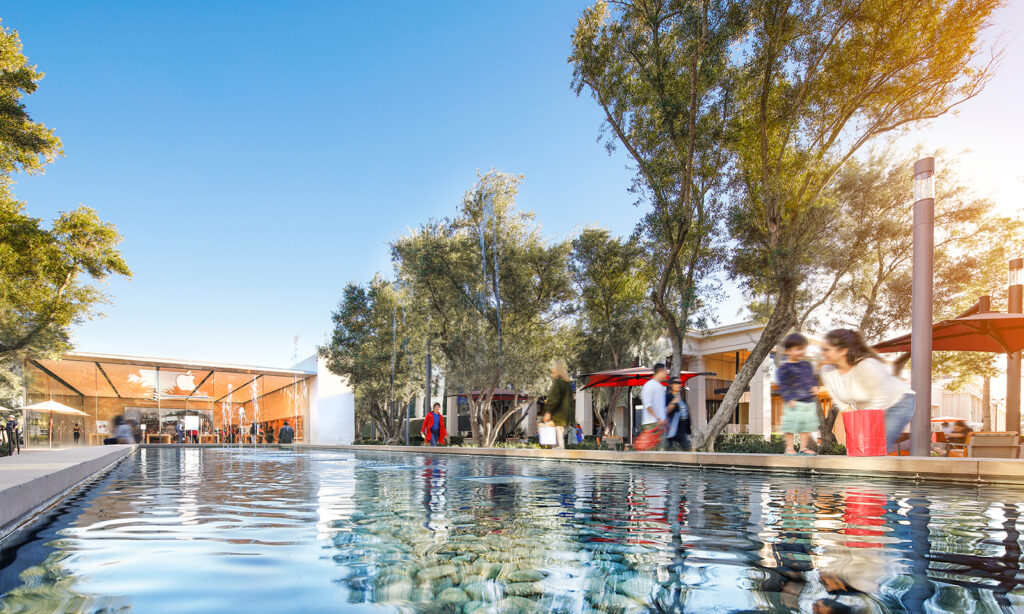 ---
The Beauty of Open Space
The city is renowned for the natural splendor of its open space, waiting to be explored.
8. Northern Open Space Preserve
Connection to the mountains
The lush canyons above Portola Springs and Orchards Hills tell stories dating back 80 million years, encompassing eras when dinosaurs roamed these hills and whales swam in an ocean covering what later became the Santa Ana Mountains. Preserving these lands has allowed hikers to appreciate their spectacular beauty and scientists to use them as an outdoor classroom where nature constantly reveals new secrets.
---
9. Jeffrey Open Space Trail
A jewel among 300 parks
Inspired by the works of Frederick Law Olmsted, considered the father of American landscape architecture, Jeffrey Open Space Trail comprises 76 acres of meadows, sycamore groves and streambeds connected by trails to surrounding villages. Landscape architect Richard Roy, who helped design the trail, says he often hears visitors say, "It's so beautiful; I can't believe it wasn't always here." The same design quality can be found throughout the city's more than 300 parks.
"We enjoy the vast variety of park options. All the parks are so beautiful and well-planned." – Simone Dadsetan and Jesse Barraza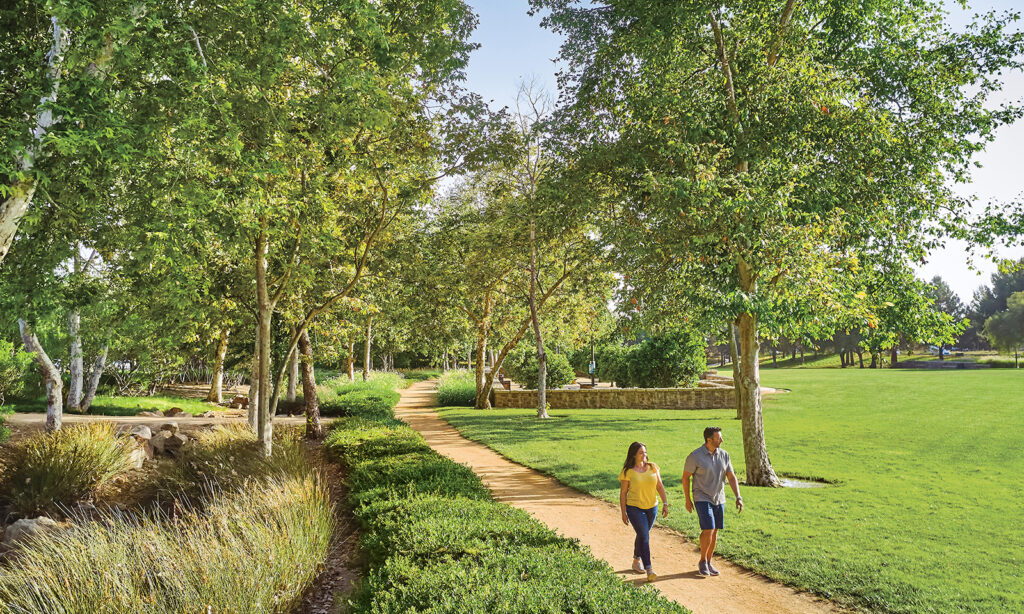 ---
10. Southern Open Space Preserve
Connection to the coast
Irvine's Southern Preserve, stretching 16 miles from Quail Hill to the Pacific Ocean, includes meadows, woodlands and coastal sage scrub that are home to dozens of plants and animals that exist nowhere else in the world. Within the preserve, the Bommer Canyon, Quail Hill and Shady Canyon areas provide popular hiking and biking trails that let visitors easily explore the 15,000-acre expanse connecting Irvine to Crystal Cove State Park.
"You forget all the beauty here when you live in it. It takes a hike like this to make me realize that we are very blessed." – Tina Sullivan