It's history-making time. You can sense it in the air and on the field, where hundreds of Irvine high school girls are playing a new sport: CIF-approved 7-on-7 girls flag football.
They've come from water-polo pools, soccer fields and softball diamonds – and dedicated their summer to prepare for the Pacific Coast League's inaugural season of a sport whose popularity is soaring across the country.
"I am excited about playing home games and being fully recognized as a varsity sport," says University High senior Leah Schulman, who plays center. "And I'm proud to leave this legacy for other girls."
All six Irvine public high schools – Beckman, Irvine, Northwood, Portola, University and Woodbridge – are competing this season, which runs through Oct. 28.
During the season's first tournament, University High dominated play with a 30-0 win over Long Beach Wilson and a 25-0 victory over Lakewood.
'Do everything at full speed'
The approach to the game is simple, says University High coach Justin Schulman.
"I tell my girls, 'Do everything at full speed.' Because it's new and so many girls haven't played, I think there is apprehension. If you're apprehensive on the field, it behooves the other team, so we're trying to encourage them to go full speed."
"The other big part is, just listen," he adds. "I'll put them in the right place. It's just learning about where to be."
Schulman knows a thing or two about coaching girls flag football. He's been coaching his daughter, Leah, on teams since she was in fifth grade.
A few years ago, they put together a team to prepare for the day CIF would approve the sport.
"We had to pull athletes we knew from many other sports to create the team, and we didn't know what to expect," says Uni senior Riley Hertstein, a running back and wide receiver.
Their success earned mention on the NFL Network. Now, they hope to take a Pacific Coast League championship.
"I am so happy it's finally a CIF sport," Hertstein says.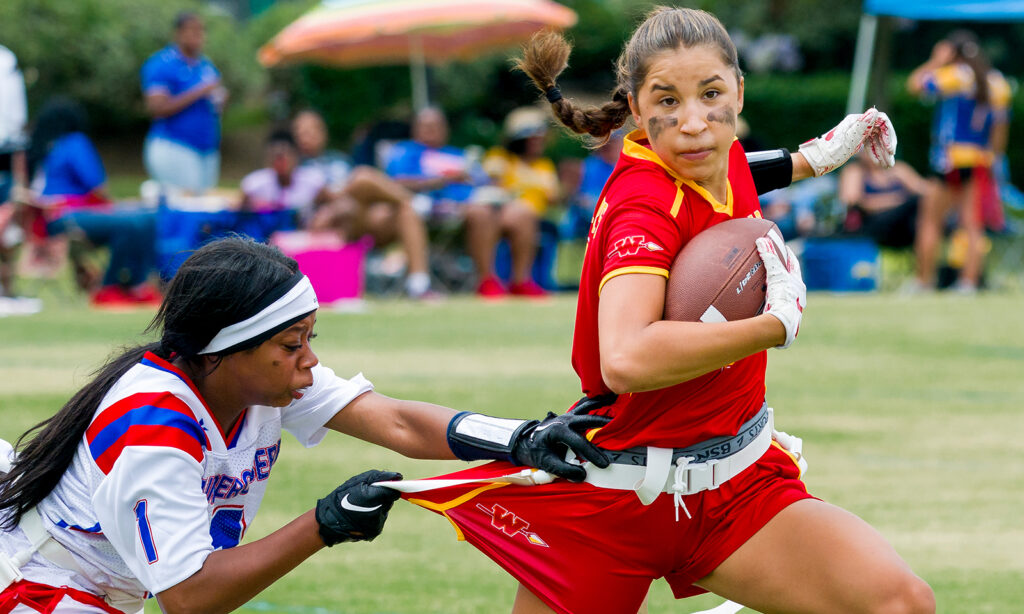 Olympic interest in the sport
The California Interscholastic Federation, or CIF, approved the sport following a national surge of interest among younger girls and growing support from the NFL – including the L.A. Rams and L.A. Chargers. The sport may even go international.
"They're voting to potentially make it an Olympic sport in 2028, which would be fantastic," Schulman says.
Games include two 20-minute halves with a running play clock, except in the last two minutes of each half. Each player wears three flags, and play is stopped when a defender pulls one of the flags of the offensive player.
Players must wear mouth guards and flags, but helmets and padding are not required.
All six Irvine teams will play in the Pacific Coast League, which also includes Laguna Hills High School. Each team will play 12 league games, scheduled on Wednesday afternoons, and up to 16 tournament games, which can run on weekends.
"Our games are going to be right after school, so hopefully we can get some people out," Leah Schulman says.
Her father believes the future of the sport is bright, and he is thrilled to be among the first 100 CIF teams to form the new league.
"For me, this year is it," the coach says. "Leah graduates and I'm done, but it's been a wonderful experience. It will be one season to get it off the ground, and then we pass it on."
---
VOICES: Girls from six Irvine high schools describe the new league