There are many good reasons why top business leaders, major league sports stars and diverse celebrities over the years have bought homes in Shady Canyon – Irvine's most exclusive, secluded, and prestigious neighborhood.
Ten minutes from the airport, five minutes from Irvine Spectrum Center, and 15 minutes from the ocean – but far enough to escape the marine layer – it's nonetheless a place where most homes have views of protected hills and canyons. In the spring, you can sit on your balcony breathing the scent of flowering sage and watch hummingbirds whiz by.
"It's a place that shows how we can live with nature, hand-in-hand," says landscape architect Sean O'Malley, the managing principal of SWA Group. His firm was retained by Irvine Company to help masterplan the 1,000-acre community, which celebrates its 20th anniversary this year.
A special place
In a city renowned for its planning, Shady Canyon stands out as a special achievement, according to O'Malley. The Irvine Company had city approval to build 3,300 homes on the land, bordered by Quail Hill and Bommer Canyon. Instead, it took a chance that enough buyers would be willing to pay a premium to build new homes on large lots in the rustic community, which is surrounded by 16,000 acres of protected coastal open space the Company had preserved.
O'Malley says Shady Canyon's natural landscape is a major part of its attraction.
"The thought was that it's such a special place that we should capture its spirit as the framework for the community," he explains. "So the Company did something that's never really been done before." Rather than bring in nonnative but fast-growing eucalyptus and pine, the industry standard, the idea was to replant more than half of the land with native trees and plants.
Oaks and sycamores, dwarf coyote brush, toyon, Cleveland sage, prickly pear and beavertail cactus, with its bright pink blooms, were brought in. As an important additional benefit, the cacti and other native plants have high water content, creating natural firebreaks, O'Malley says.
The luxurious proximity to nature proved to be highly appealing to buyers. Shady Canyon attracted so much interest that most of the estate lots sold more than three years ahead of schedule.
"The value of the community kept increasing," says Roger McErlane, who at the time was senior vice president of community planning and design for the Irvine Company. "The more it was demonstrated what it was, the more desirable it became."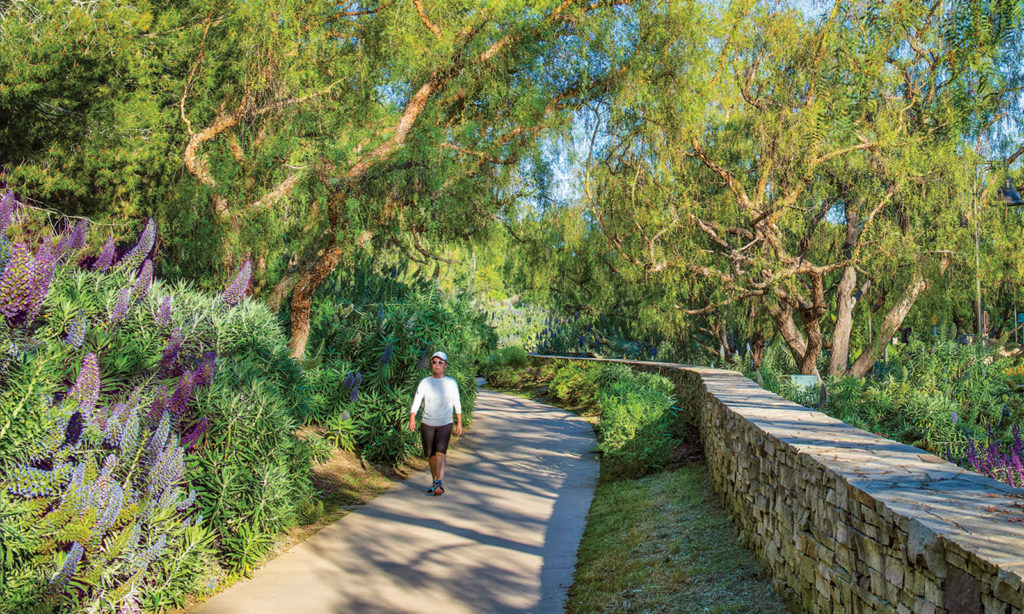 Resort-style, rustic living
Shady Canyon today boasts some 400 mostly custom-designed homes, many inside gated areas, and perched at different heights along narrow, winding roads, to preserve views. The homes are built according to strict standards governing building materials, including the stone walls and ubiquitous red-tile roofs, elevations and fencing, and yet vary in detail, boasting an array of Mediterranean, Tuscan, Moorish, and French Provençal-inspired features, including loggias, turrets and towers.
The project has been good for Irvine's local economy and tax base, attracting business leaders in tech and research and development industries and wealthy celebrities, including major league baseball stars Mark McGwire and Albert Pujols, tennis pro Lindsay Davenport, and radio sports-show host Jim Rome. Film and stage actress Susan Egan and her husband, comedy producer Robert Hartmann, lived in Shady Canyon until 2015. Bestselling author Dean Koontz recently bought a second home in the neighborhood.
The average age of residents is between 40 and 50, many of them with children who attend schools in the award-winning Irvine Unified School District. UC Irvine is a short drive away.
A major local draw is the Shady Canyon Golf Club, where the 300-acre course, designed by the celebrated architect Tom Fazio, encompasses large areas of protected open space and preserved creeks, following the natural contours of the valley. The land includes such carefully conserved natural habitat that it has been certified as an Audubon Cooperative Sanctuary.
The private club, which includes a 43,000-square-foot clubhouse, tennis courts and a 6,700-foot wellness center, is by invitation only, and you have to be sponsored. Initiation fees reportedly run more than $100,000, on top of the monthly fees.
Take a look around
Irvine residents without the kinds of resources required to move in can still appreciate the land by hiking, running or biking along the public trail that follows the perimeter, or taking guided hikes deep into the nearby preserve. For every acre of development in the neighborhood, there's an acre of protected land. That includes the popular Shady Canyon Trail, which affords views of the mansions, a golf course and the surrounding mountains and valleys.
"The view of the lake and the golf course is really nice," says Isaiah Vargas, a college student traveling on the trail one recent weekend. "We often take our dogs, and they like the dirt trail because it's easier on their paws."
For homeowners, day-trippers, and dogs alike, Shady Canyon provides an opportunity to immerse yourself in nature for a few minutes or hours, with all the physical and psychic benefits that brings.
"I'm a romantic at heart, but there's a beauty in the California landscape that's unique," O'Malley says. "The way the light moves across the hillside, with the purples and blues you see in paintings – there's something very relaxing about this undeveloped, naturalistic landscape. There's a peace. It's very calming."