The Irvine economy received a significant boost when Amazon announced it had signed a lease for 116,000 square feet of office space at Spectrum Terrace, which is quickly becoming Orange County's technology hub.
Amazon said it expects to create more than 800 corporate and technology jobs at its new Irvine campus, which it will occupy later this year.
The world's largest e-commerce company has already posted hundreds of available jobs in Irvine, including software engineers, visual-effects artists, quality assurance engineers, gameplay engineers, research scientists and many more.
These are high-quality, high-paying jobs that will provide a significant boost to the city of Irvine. In February, Amazon announced that it will increase the maximum base pay for corporate and tech workers to $350,000 per year, a significant bump from the prior cap of $160,000.
The Amazon deal is the latest in a series of lease signings at Spectrum Terrace, which offers workers the ability to work indoors or outdoors, with 33 acres of outdoor space, an Olympic-length swimming pool with meeting-ready cabanas and resort-style conveniences, including a fitness center, direct access to coastal wildlands and a café serving fresh, Southern California-inspired cuisine.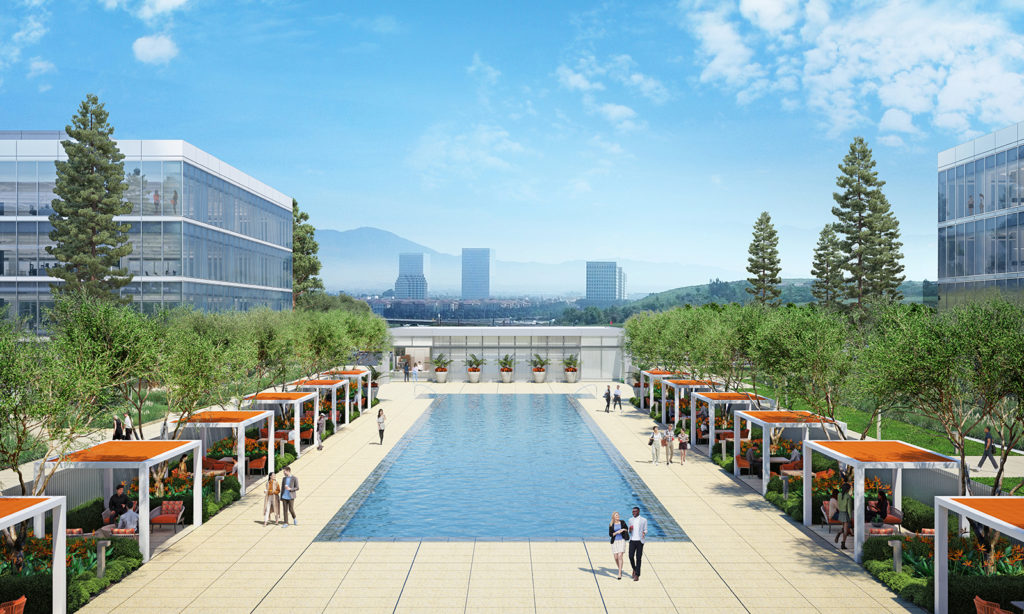 Nearly half of the campus is dedicated open space. Even those working indoors benefit from a high-efficiency filtration system that provides 100% fresh, outdoor air so teams can breathe easy while on the job.
Other customers at Spectrum Terrace include software firm Kajabi, data analytics firm Alteryx Inc., real estate market-tracking firm CoStar Group Inc. and accounting agency RSM, according to the Orange County Business Journal.
Irvine, with its proximity to UC Irvine, is a tremendous source of technology talent, making the city particularly attractive to employers. Spectrum Terrace's modern amenities designed for the workplace of the future make the location even more attractive to top employers in technology and other fields.
More than 900 technology companies now call Irvine home.
"The quality and number of innovative companies leasing at Spectrum Terrace validates Irvine's growing status as an epicenter of talent and innovation," says Steve Case, executive vice president for the office division of Irvine Company.
Overlooking the Irvine Spectrum, the location provides employees convenient access to shopping, dining and entertainment, premium housing options, award-winning schools and an active, outdoor lifestyle. The project is in its final phase, with construction expected to conclude this year.
The campus's unique design and emphasis on both indoor and outdoor collaboration sets it apart from other locations. Spectrum Terrace comprises nine all-glass buildings, with 1.1 million square feet of space over 73 acres.
"Forward-thinking companies understand dynamic office environments bring people together, inspire teams and drive business success," Case says.