Hiking on the Limestone Meadow trail that cut through a lush green field surrounded by rolling hills, I felt like I was walking on the yellow brick road in "The Wizard of Oz."
Instead of Emerald City, though, the trail led to an equally magical place: The Sinks, a 20-million-year-old geological formation known by many as Orange County's mini-Grand Canyon. The 4-mile trek to The Sinks offers sweeping views of the iconic layered sandstone cliffs, the city of Irvine and even Catalina Island.
In early February, I took advantage of Wilderness Access Day, which takes place the first Saturday of every other month. We were allowed to hike, run, mountain bike and horse ride to explore the natural wonders of Limestone Canyon on our own. The county reopened the preserve to the public last month.
"I like that it's so close to home," said Shari Maron, who hiked the canyon with a Meetup group.
"It makes you feel like you're in Colorado or even the Alps."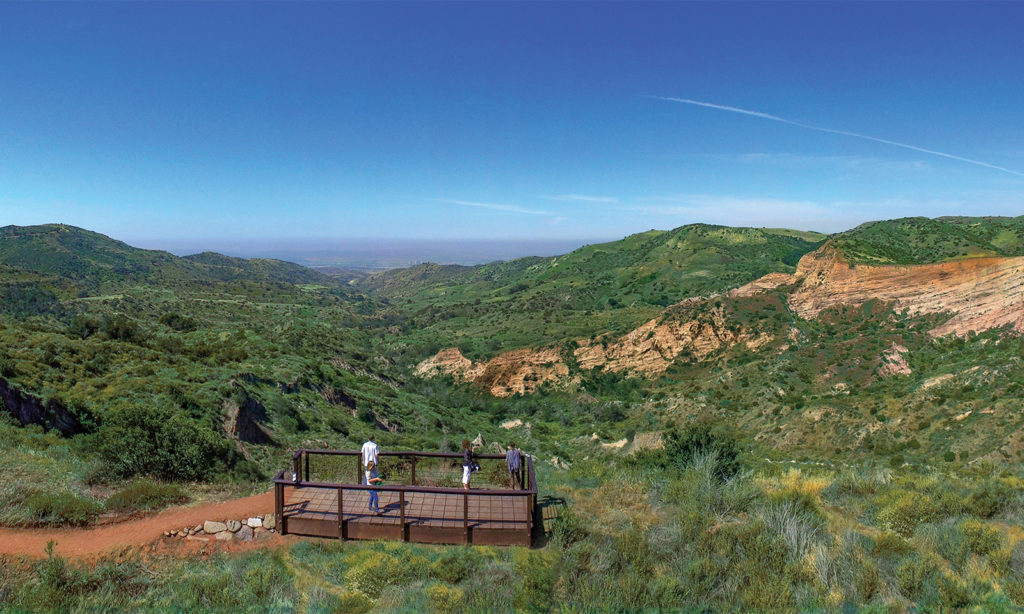 Situated just north of Irvine between the mountains and the coast, Limestone Canyon boasts rich biodiversity. You'll walk through oak woodlands and coastal sage scrub habitats, which are home to mule deer, raccoons, foxes, red-tailed hawks and great horned owls.
The best time to visit Limestone Canyon is now through June, says John Gump, OC Parks operations manager, because the landscape is green and colorful with wildflowers.
"It's both the journey and the destination that make Limestone special," he said. "A lot of times, people try to get to a viewing point, but Limestone also has a variety of different wildlife habitats on the way."
"I like that it's so close to home. It makes you feel like you're in Colorado or even the Alps." – Shari Maron
The canyon is part of 57,500 acres of open space that Irvine Company has dedicated for permanent preservation and public access. The company also contributed $50 million for the land's long-term care and management.
Julie Montmaneix, a retired Irvine resident, rode her 13-year-old horse, Bubbles, to The Sinks.
"This is my happy place. It's like Disneyland for me," she said, gently brushing Bubbles' gold coat after the ride. "Limestone is one of the most amazing places for us as equestrians. You go for a half-mile, and there's nothing. It's so peaceful and quiet."
The next Wilderness Access Day at Limestone Canyon is April 2, and pre-registration is required. OC Parks also offers free guided activities at the preserve.
To register or learn more, visit letsgooutside.org.
---
3 MORE HIKES TO TRY
Irvine Ranch Open Space is full of opportunities
Orchard Hills Loop Trail
Sign up for a guided hike on this trail that meanders around an avocado orchard and provides fantastic ridge-top views of Irvine and the Pacific coastline.
TRAILHEAD: Off Orchard Hills Drive, Irvine
DISTANCE: 3 miles
LEVEL: Moderate
REGISTER: Letsgooutside.org
---
Bommer Ridge Trail
Enjoy hiking, running, mountain biking and horseback riding through Laguna Coast Wilderness Park. Scenic vistas of the Pacific Ocean provide artists and photographers with inspiration.
TRAILHEAD: Ridge Park Road at East Coastal Peak in Newport Beach
DISTANCE: 7.4 miles
LEVEL: Easy
HOURS: 7 a.m.-sunset
---
Weir Canyon Trail
This spring, enjoy a lush green landscape with beautiful wildflowers such as orange California poppies. Leashed dogs are allowed on this loop trail, which is part of Santiago Oaks Regional Park.
TRAILHEAD: 1000 E. Overlook Terrace, Anaheim
DISTANCE: 3.6 miles
LEVEL: Moderate
HOURS: 7 a.m.-sunset